Welcome to the Administrator Newsletter
July 2018
Each month we'll share information about important upcoming deadlines and events, professional development opportunities, new research, product updates, and ACT assessment news.
Sign Up to Receive the Administrator Newsletter
ACT/SAT Concordance Table: How to Use It
On June 14, 2018, ACT and the College Board released the new concordance tables that allow users to compare scores from the ACT test and the new SAT test. The 2018 ACT/SAT concordance tables, derived from a joint comprehensive research study conducted by the two organizations over the past nine months, are based on scores of nearly 600,000 graduating seniors in the class of 2017 who took both tests.

Use concordance tables to:
Compare SAT and ACT scores across different students. When scores from either test are accepted, concordance tables can help institutions or other stakeholders who need to compare scores.
Establish a policy using comparable scores from both tests. An institution, scholarship, or program may use a specific test score as one factor to establish eligibility.
Convert scores for use in a predictive model or index. Many colleges and universities have built indices or models to predict the likelihood that individual students will apply, enroll, or succeed academically. These models typically include a variety of factors, including test scores, high school GPA, and course rigor. Institutions can apply the concordance tables in these prediction models.

Easily convert student scores with the Convert Your Score tool.

Jumpstart Your SEL
The recording of the June 14, 2018 webinar Jumpstart Your SEL Planning for 2018–2019, presented by Jonathan Martin and Jeff Allmon, is now available online. You'll also find resources and research you can use to inform your SEL planning and implementation.

This  60-minute webinar focuses on what educational leaders and counselors can do now to enhance SEL programming throughout their district and school for next school year.  You'll learn tips on how to:  
Gain buy-in from leadership 
Plan professional learning for counselors and teachers 
Find the time for SEL 
And so much more 

Two Activities to Do With Your ACT Profile Report
On August 15, you have the opportunity to learn from ACT experts how to use your ACT High School Profile Report. Your Profile Report provides you with important information about your ACT tested students, including student performance trends (broken down by demographics), course selection, course rigor, and college readiness.

Here are two activities from the upcoming 2018 ACT CCRW to help you get started:

Evaluate Your Curriculum and Instruction
Open your ACT Profile Report to Section II, Academic Achievement. Figures 2.2–2.5 provide aggregate data on student performance in each reporting category for each subject.
In the Curriculum Review Worksheet, read the standards for each subject and reporting category where students underperformed—as indicated by the data in your ACT Profile Report.
Answer the question in each column for every standard (row):

Is it included in your curriculum?
At what grade level (or in which course) are students first introduced to it?
At what grade level (or in which course) are students expected to demonstrate proficiency?

Analyze Student Course Patterns

Open your ACT Profile Report to Section III, College and Career Readiness and the Impact of Course Rigor. Figures 3.7 and 3.8 provide information on how the courses your students take impacts their ACT scores.
Ask questions:

What was the most common group of courses your students completed? Find the answer in the Course Pattern, N, and Percent Taking Pattern columns.
How did this group of students perform on the ACT? Look at the Score and Percent Who Met Benchmark columns.
Which course pattern correlated to the highest scores and percent meeting the benchmarks? Compare the Course Pattern column to the Score and Percent Who Met Benchmark columns.
How does your School compare to the State? Examine how common course patterns compare and how those courses impact scores at your school compared to the state.
2018 ACT College and Career
Readiness Workshops
Learn how to support every student at every step on their journey to college and career success. Register for a 2018 ACT College and Career Readiness Workshop.
Can't attend a workshop?
Sign up to attend a webinar.
Webinar: Leading Your School or District Using the ACT Profile Report
Learn how to use the data available in the ACT Profile Report to improve student readiness and make an impact on your students this year. Attendees will leave with a toolkit of information to support communication with your stakeholders.
August 15, 2018 | 3 ET/ 12 noon PT
ACT Online Reporting Coming in 2018-2019
We're excited to launch our interactive online reporting platform in December for national test dates! Through the free online platform, any designated faculty member can view the contents of your high school reports and print out student score labels. Get to the data you need to help individual students and inform decisions for groups of students, quickly and easily.
The rollout of the online interactive platform will be staged, with some schools getting access in the early part of 2019. Grad class aggregate reports will be posted online in the fall of 2019. Designated users will be able to view and export data, with API integration with student information systems coming next year. We will provide free training materials and webinars to help make the best use of the new platform.
ACT Test Prep Increases ACT Scores
Students who participated in ACT® Kaplan® Online Prep Live increased their ACT Composite score by half of a point (0.54) more than similar students who did not use ACT Kaplan Online Prep Live, according to newly released ACT research.
In fact, the score increase from using this ACT Test Prep product is equal to 33% of the 1.64 score increase typically seen in nine months (one academic year) of classroom instruction. When calculated as an average per-month increase in ACT Composite score, by months of instruction, the average ACT score increase of these users corresponds to nearly two and half months of attending school.
The increase in ACT Composite score among these ACT Test Prep users, as compared to non-users, was greatest for low-income students, followed by middle-income and high-income students respectively. As shown in the figure below, low-income students who enrolled in these live test prep classes increased their score by almost 1 point more than that of low-income non-users.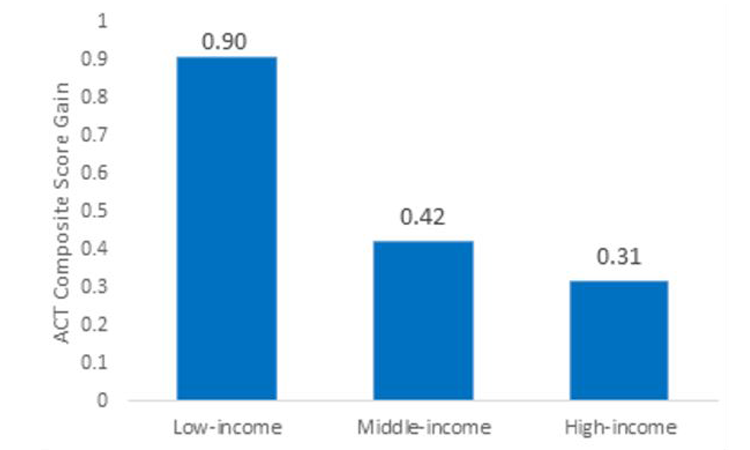 ACT Kaplan Online Prep Live provides students with live instruction and practice on ACT test subjects through a virtual classroom experience that delivers all the benefits of expert instruction at an accessible price.
Senior Retake in Tennessee Renewed ACT After Scores Increase
This fall, all Tennessee public school seniors will again have the opportunity to retake the ACT at no cost to them. In 2017, almost 75 percent of seniors (nearly 52,000) participated in the senior retake which resulted in 19,000 students improving their score and opened new doors for their postsecondary options. With higher scores, more than 2,300 additional students are now able to access up to $37 million in HOPE Scholarship funds.

The ACT Senior Retake Day is a state-paid opportunity for seniors to raise their ACT score by taking the test for a second time during regular school hours. All public school seniors—regardless of whether or not they participated in the state's junior test administration—may participate on the retake day. And, all seniors who were enrolled in Tennessee public schools as juniors are automatically registered for the retake.

By increasing the success of students on the ACT, Tennessee is expanding the opportunities that students have for success in higher education and high-quality employment.