Welcome to the Administrator Newsletter
June 2018
Each month we'll share information about important upcoming deadlines and events, professional development opportunities, new research, product updates, and ACT assessment news.
Sign Up to Receive the Administrator Newsletter
The NEW ACT/SAT Concordance Tables: What You Need to Know
Join experts from ACT and College Board as they introduce the new 2018 ACT/SAT concordance tables and answer any questions you might have. This special 60-minute webinar is dedicated to help you compare scores from similar assessments to inform your decisions.
With your attendance you will:
Gain knowledge and tools on how to use the new tables consistently and fairly for all students and all schools
Learn what to consider when using the tables
Understand the limitations to the new tables
Get your questions answered
Event is co-sponsored by AACRAO and NACAC
Note: This is the first of two webinars on this topic, the second will be held in the fall.


The ACT Test Appropriate for Accountability Purposes
Recent debate over the use of the ACT® test as a high school accountability measure under the federal Every Student Succeeds Act (ESSA) has prompted ACT to release an official position statement.
ACT approves of the use of the ACT test for federal accountability purposes on the basis of validity evidence that supports such use. The ACT assesses student progress toward postsecondary readiness—consistent with ESSA's requirement that state academic standards be aligned to "the entrance requirements for credit-bearing coursework in the system of higher education in the State" (Sec. 1111(b)(1)(D)(i)). Lawmakers at the ESSA conference negotiations (H.Rept 114–354, p. 426–427) stated that "existing assessments already widely recognized as validly measuring student performance, such as ACT or SAT exams, may, subject to approval described in this subparagraph, be selected and used."
ACT is working with states administering the ACT for accountability purposes to meet the approvals referenced by the conferees.
Read the full position statement.
In April, ACT presented a free webinar on the use of the ACT as a federal accountability assessment in high schools. Watch video: Best of Both Worlds: Assessments that Help Every Student Succeed (ESSA)

Extended-Time Accommodation Update
Starting in September, examinees with diagnosed disabilities or English learning needs who qualify for extended-time accommodations on the ACT® test will have a time limit on each section of the test, with a hard stop after each section. This is a change from the existing rules, under which examinees are given a total of 5 hours to complete the four test sections at their own pace, with no individual time limits on each section.
The change will impact only examinees who qualify for National Extended Time testing, the most commonly granted accommodation on the ACT. Such examinees will receive time-and-a-half on each of the four required multiple choice subject area tests (English, mathematics, reading and science). The time limits for National Extended Time testing will be as follows:
English – 70 minutes (compared to 45 minutes standard)
Mathematics – 90 minutes (compared to 60 minutes standard)
Reading – 55 minutes (compared to 35 minutes standard)
Science – 55 minutes (compared to 35 minutes standard)
For more information, read the full announcement.


The Key to Academic Achievement, Career Success, and Lifelong Well-being
Jeff Allmon, a school counselor at McPherson Middle School, understands the importance of Social and Emotional Learning (SEL) skills. He has seen a lot of promising, college-bound students filter through the McPherson School District. They have great GPAs and test scores, are academically prepared for college, but drop out because they do not have strong SEL skills like grit, teamwork, resilience or leadership. Developing these skills is paramount to Allmon, and that's why he uses ACT® Tessera® and the ACT Tessera Teacher Playbook to help him do so.
"The Teacher Playbook is a great teaching tool. The lesson plans are really flexible and concrete – you're not locked into a particular plan or series. You pick and choose whatever you want."
-Jeff Allmon, school counselor at McPherson Middle School in McPherson, Kansas
Improving College and Career Readiness
When the Archdiocese of Chicago updated its curriculum to align with a new set of educational standards, it needed a new assessment aligned to the new curriculum that provided greater tools for analysis. Dr. Jorge Peña, Director of School Improvement and Catholic School Accreditation at the Archdiocese of Chicago, considered many tools, but only one was a good fit for the private Catholic school system—ACT® Aspire®.
"When I saw the results, I almost cried. I got so happy! The students benefited, and it shows on the assessment."
–Dr. Peña
Setting a Higher Standard for Your District
Three years ago, Affton High School in St. Louis, Missouri sought to improve student learning and readiness for college and career. To achieve their goal, administrators wanted to create a culture around college and career readiness and set a standard that all students who want a higher education have the academic skills to earn one. By dedicating a day to college and career readiness, they have had success.
Their assessment plan is simple:
Freshmen take ACT® Aspire®
Sophomores take PreACT®
Juniors take the ACT® test
Seniors celebrate completing ACT testing at an offsite picnic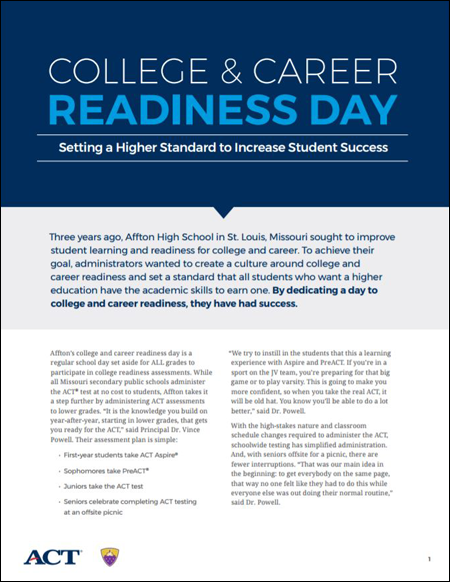 2018 ACT College and Career Readiness Workshops
Registration is Open
Preparing students for the next step isn't what it used to be. But when you have the right information at the right time, it can be easier. Sign up to connect with your ACT state representative this fall.
Jumpstart Your SEL Planning for 2018-19
Get everyone on board with SEL
Learn how to enhance SEL programming throughout your district and school for next school year. Presented by Jonathan Martin, Director of K-12 Consulting Services at ACT, and Jeff Allmon, School Counselor at McPherson Middle School.
ACT Fall 2018 District Testing Registration
Deadline: July 20, 2018
Complete the form on the next page for more information on getting started with ACT District Testing.

ACT Aspire Summative 2018
Fall Registration
Deadline: July 31, 2018
ACT Aspire Assessments are now available to order.
National Charter School Conference
June 17-20, 2018 | Austin, TX
The best learning and networking event for charter school educators, leaders, and advocates.

The National Conference on Student Assessment (NCSA) 2018
June 27–29, 2018 | San Diego, CA
Hosted by: Council of Chief State School Officers (CCSSO), NCSA is the premier forum for assessment practitioners to discuss educational assessments.
NEA Expo 2018
June 28–July 2, 2018 | Minneapolis, MN
America's largest gathering of educational leaders, with over 10,000 attendees representing 3 million members nationwide.
American School Counselor Association Annual Conference
July 14–17, 2018 | Los Angeles, CA
Join approximately 3,000 school counseling professionals for inspirational keynote sessions, informative breakout sessions, in depth looks at hot topics, and networking opportunities.
ACT Academy
In March 2018, ACT launched the student experience of ACT Academy. In August 2018, ACT will be launching the teacher, parent and administrator experience. Using ACT Academy, teachers will have access to a personalized repository of resources and a ready to use digital curriculum that is mapped to key standards. Districts will be able to provide their teachers with comprehensive formative item banks that can deliver on the promise of personalized education. In addition to being able to assign resources to an individual or a group of students, teachers and administrators will also have access to dynamic reporting that provides meaningful data that can be used to effectively inform instruction. With one click, teachers will be able to deliver remediation to only the students that need help with a specific topic. This no-cost solution will combine meaningful formative assessments and aligned resources that seamlessly integrate with a variety of LMS, tools, and apps.


Educators Need More Time for Data Usage

As a research and learning assessment organization, ACT often emphasizes the value and importance of data. But there is a significant difference between having data and putting that data to use.
According to an ACT Research and Policy Brief, "Although the educators reported that there was a lot of student data collected at the school and district levels, respondents commonly cited a number of barriers to their ability to make data-informed decisions at their school." The most cited barrier was time. More than 75% of teachers, principals, and administrators surveyed said time was a major barrier.
Read the Research and Policy Brief for recommendations on how to make data usage a priority at your school or district. For ACT Senior Vice President of Research, Angie McAllister's take on the research, read her blog post.
The research also revealed that time should be made to use the data.
For district administrators (e.g., superintendents and curriculum coordinators), 91 percent of respondents found that nationally normed assessments were "useful" or "very useful."
For principals, 85 percent found them useful or very useful.
For teachers, about 65 percent said they were useful or very useful.

Webinar: First 3 Things You Should Do with Your High School Profile Report
August 15, 2018 | 3PM ET/12 PM CST
There is so much great data in your ACT High School Profile report – do you ever ask yourself the question "Where should I begin?"
Join us to learn three things that will help you to make an impact on your students this year.
Assessment Updates Available for 2018-2019
Don't miss your opportunity to provide multiple measures for students to develop well-informed pathways to college and career. ACT solutions are designed to help your students discover the track to success with ACT® Aspire®, ACT® Tessera®, PreACT®, and the ACT® test.
Now's the time register or renew for the 2018–2019 school year, with deadlines expiring over the summer:
ACT Fall District Testing: July 20, 2018
ACT Aspire Summative: July 31, 2018
PreACT: Always available
Tessera: Always available
Several enhancements will be introduced this coming school year to help you track student progress and identify early interventions even more effectively.
ACT Aspire Summative Updates for 2018-2019:
The testing window for spring 2019 now aligns with the ACT late spring testing window allowing schools/districts the opportunity to establish their own College and Career Readiness Day and test multiple grades on the same day.
Assessment
Administration
Testing Window
ACT Aspire Summative
Fall 2018
Oct 8 - Nov 30, 2018
ACT Aspire Periodic
2018-19
Sept 4, 2018 - June 28, 2019
ACT Aspire Summative
Spring 2019
Apr 1 - May 24, 2019
The ACT
Late Spring: Paper
Apr 2, 2019
The ACT
Late Spring: Online
Apr 2 - Apr 4, 2019
Apr 9 - Apr 11, 2019
ACT Tessera Updates:
Improved reporting to provide educators with additional tools for instruction.

School Comparison Aggregate Report making comparison to other participating schools possible.
One-page Summary Individual Student Report for a simplified student and parent overview of key findings.
Current Individual Student Report will be enhanced with detailed constructs
Roster Report transitioned to the ACT Aspire Student Performance File format.

Additions and digital delivery of the ACT Tessera Teacher Playbook for quick accessibility.
The best of ACT® Engage® will be incorporated into Tessera, including school climate items.
Reduced assessment time by 15 min. to maximize class time, with the same reliable results.