Welcome to the Administrator Newsletter
May 2018
Each month we'll share information about important upcoming deadlines and events, professional development opportunities, new research, product updates, and ACT assessment news.
Sign Up to Receive the Administrator Newsletter
ACT Thank-A-Teacher Challenge 
Teachers sacrifice much of their time to advance the lives of their students by providing inspiration, instruction, and encouragement. They shape students' minds and spirits, and strive to motivate each individual to achieve great things.
National Teacher Day is today, Tuesday, May 8, and ACT will honor those teachers who are changing lives. We're challenging students, parents, and other educators to share stories about the teachers that have impacted them for the better.
Let's thank teachers for their influence. ACT will be sharing inspirational stories through our channels. Encourage your staff and students to participate in this national campaign by posting their stories to their preferred social media channel and including the hashtag: #thankateacher. And please tag @ACT if you'd like us to share your story.
SEL in Action: 5 Lessons from Stratford School
Learn how one school has successfully integrated Social and Emotional Learning (SEL) into everything from professional development to discussions with students about growth in a new blog post by Jonathan Martin, Director of K12 Consulting Services at ACT. Martin examines the connection between the five pillars of SEL programing outlined in the Aspen Institute's National Commission on Social, Emotional, and Academic Development's (SEAD) new report and Stratford School's implementation of ACT® Tessera™.
Stratford School in Saratoga, CA recently started using ACT Tessera and the Tessera Teacher Playbook in a new SEL program designed for their nearly 1,000 middle school students.
The Aspen Institute's report, "The Practice Base for How We Learn" is authored by the Commission's Council of Distinguished Educators under lead author Sheldon Berman, superintendent of schools in Andover, MA.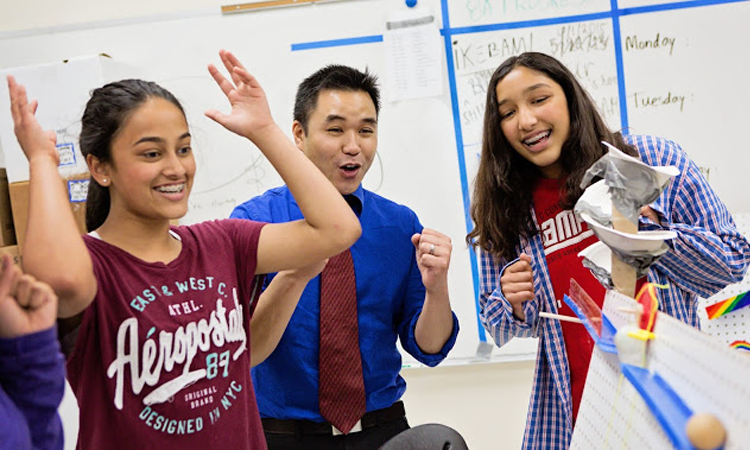 Recently, Stratford implemented the ACT Tessera assessment for nearly 1,000 middle school students, along with the evidence-based Tessera Teacher Playbook curriculum, to help introduce social and emotional programming.
Preparing Students for the Workforce
More and more businesses are finding that, while employees have the core academic skills they need, other necessary skills are lacking. The ACT Center for Equity in Learning makes the case for how employers can better support working learners who seek to develop these skills in a recent blog, What CEOs Can Do to Improve Higher Ed Outcomes.
"In fact, the skills employers say they look for on resumes are exactly the ones that working learners secure through their dual roles. The National Association of Colleges and Employers found that these skills (often given the misnomer "soft skills") are leadership, ability to work in a team, communication skills (written), and problem-solving skills."
But, preparing students for the demands of the workforce begins in grade school. These skills can be assessed earlier in life and be learned long before entering the world of work.
Connecting Student Growth: Elementary to High School
For many schools and districts, having consistent data to track students' progress toward college and career readiness across buildings, grade levels, and years is a long sought after goal. But, the thought of devoting more time and resources to external assessments and putting undue pressure on students and teachers often prevents that goal from being reached. That is where Fox C–6 School District near St. Louis, Missouri was four years ago.
Since then, the district has put together a comprehensive assessment plan using ACT solutions that has limited their impact on instructional time and aligned data from grade 3 through high school:
Grades 3–9: ACT® Aspire®
Grade 10: PreACT®
Grade 11: the ACT® test or ACT WorkKeys®

2018 ACT College and Career Readiness Workshop Registration Opens Soon
Registration for the 2018 ACT College and Career Readiness Workshops opens next week. This year you will:
Learn best practices from schools like yours
Discover new resources for students and educators
Acquire valuable data interpretation strategies
Create a comprehensive assessment plan
Preparing students for the next step isn't what it used to be. But when you have the right information at the right time, it can be easier. Sign up to connect with your ACT state representative this fall.
Webinars to Binge Watch this Summer
Check out these on-demand webinars as you plan professional development opportunities for your educators:
Webinars are delivered by practitioners, ACT researchers, and industry experts and run about 60 minutes each.
The National Conference on Student Assessment (NCSA) 2018
June 27–29, 2018 | San Diego, CA

American School Counselor Association Annual Conference
July 14–17, 2018 | Los Angeles, CA
Join approximately 3,000 school counseling professionals for four days of inspirational keynote sessions, informative breakout sessions, in depth looks at hot topics in the school counseling profession and networking opportunities.
NEA Expo 2018
June 28–July 2, 2018 | Minneapolis, MN
America's biggest gathering of educational leaders all in one place. Over 10,000 attendees representing 3 million National Education Association members nationwide.
ACT Tessera Fall Enhancements
This summer, ACT will be preparing new enhancements for ACT® Tessera™ to release this Fall. Several important updates will be made prior to the start of the 2018-2019 school year.
New and updated reports

Detailed constructs and 1 page summary added to the Individual Score Reports
Expansion from 3 Stars to 4 Stars
Roster Report and Student Performance File
School Comparison Aggregate Report

Digital delivery of the Teacher Playbook
Additions to the ACT Tessera Teacher Playbook
The best of ACT® Engage® will be incorporated into ACT Tessera, which includes school climate items
Shorter assessment and reduction of situational judgement test items
For questions, complete this contact form.
Educators Participate on Item Review Panel
In response to the voice of the customer, ACT piloted a new review panel as part of our item development process to include valuable educator input from states using our ACT Aspire product. We invited educators to the ACT Campus in Iowa City, Iowa, to participate in a two-day content review workshop that was held on April 10-11, 2018. This ACT Aspire item review consisted of grades 3 through early high school (EHS), in English, mathematics, reading, and science. We had 31 participants from Arkansas, Wisconsin, Oregon, and Louisiana and received excellent feedback.
This review was met with overwhelming appreciation and support from participants and we hope to replicate it for other programs.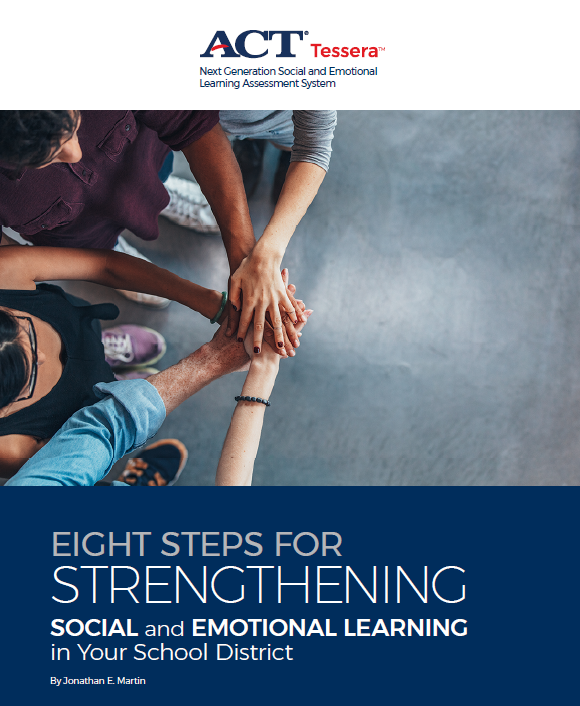 New eBook: Creating an SEL Program
Social and Emotional Learning (SEL) has been gaining traction with educators and policy makers. But, understanding and creating an effective SEL program can still be a challenge. In Eight Steps for Strengthening Social and Emotional Learning in Your School District, Jonathan Martin, Director of K12 Consulting Services at ACT, outlines a process for proposing, developing, and executing your own program. Supported by research and experts, you'll learn how to:
Explain the value of social and emotional learning
Put SEL front-and-center in your mission and vision
Collect and use evidence of SEL program effectiveness
Identify, evaluate and prioritize gaps
Implement SEL program initiatives
Facilitate professional learning for administration and faculty
Empower students through goal setting, improvement, and self-monitoring
Measure, monitor, and repeat
ACT College Readiness Benchmarks FAQs
The ACT College Readiness Benchmarks are the minimum ACT test scores required for students to have a reasonable chance of success in first-year credit-bearing college courses at the typical college. A new brief by ACT researchers Jeff Allen and Justine Radunzel answers six frequently asked questions about the benchmarks:
Why these college courses?
What do we mean by "a reasonable chance of success"?
What data were used to establish the ACT College Readiness Benchmarks?
How should the benchmarks be used?
What other evidence exists to support the ACT College Readiness Benchmarks?
Do benchmarks exist for earlier grade levels?
Product Spotlight - ACT Academy
3 Easy Steps to Improving an ACT Test Score for Free!
Encourage your students to go to act.org/academy to take steps toward a stronger ACT test score.

The top 3 things your students should know:
It's free! ACT Academy is free to all students everywhere. Having an account allows your students to track their progress and keep moving forward.
Create a playlist: Take a quiz or enter a score. Short quizzes are designed to help students identify the content they have mastered and to clarify areas where more focus is needed. If your students have already taken the ACT or PreACT they can simply enter their scores and custom playlists will be automatically created!
Watch and learn. ACT Academy creates automated daily playlists to hit on the basic lessons your students need to master the ACT. After each lesson, a short quiz will determine if the resources they were given helped them learn the material needed.
Practice Makes Possible
Watch the video on these three easy steps to make an impact in the shortest amount of time.