Preparing Students for the Next Step

Preparing Students Early: Comprehensive Assessment Plans
Connected, comprehensive assessments provide the data you need to make informed, evidence-based decisions. Your comprehensive assessment plan should provide a holistic, longitudinal measurement of your students' readiness for college and careers—enhancing whole-student learning from elementary through career.
A successful comprehensive assessment plan should:
Set Students up for Success; get them on track from the start



Keep Students on Track and indicate when to intervene.


Predict college readiness scores and help students improve where needed.


Measure students' college readiness, indicate career readiness, and inform steps for improvement.


Include Social and Emotional Learning (SEL) measures for factors that most affect success.
The assessments in your comprehensive assessment plan should measure your content standards and desired outcomes using data that can be reliably linked together. The assessments together will measure the school program through the district's strategic plan and the school's improvement plan.
A comprehensive assessment plan includes both formative and summative assessments:
Formative: Assessment for learning. How is a student progressing toward a learning or skills goal? How do we course correct and get them on track?



Summative: Assessment of learning. Did the student meet the learning or skills objective?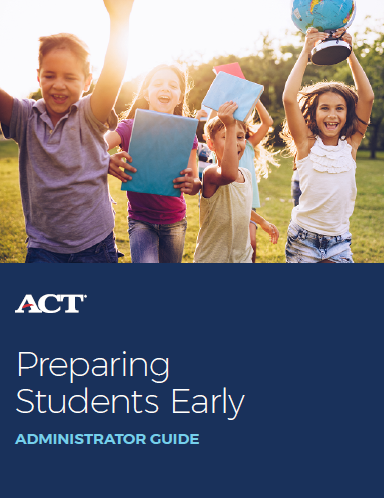 In this eBook, you'll learn best practices for early student preparation, along with some ACT solutions that other schools have had success with between grades 3 and 10.