Improving School Climate by Developing SEL
School leaders identify school safety as one of the most pressing challenges they face today. But how can you measure and address the factors related to school climate and safety and the effect it has on students?
Focus on developing emotional skills and competencies for ALL students, not for just the behaviorally challenged ones. All students deserve this support in a dedicated manner, and have Social and Emotional Learning (SEL) embedded in their academic domain.

Provide SEL to all students, in all three MTSS (Multi-Tiered System of Support) tiers.
Implement explicit instruction in understanding and applying social and emotional skills/competencies.

Ensure opportunities to practice these skills/competencies embedded into academic instruction.

Other strategies that can improve school climate include:
Involve Family and Community
Build Faculty Trust and Collaboration

Focus on Equity
Revisit Student Discipline
Tap Student Voice and Leadership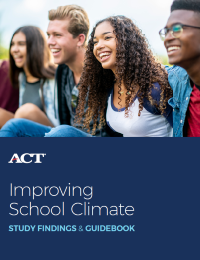 Download Our eBook and Explore All Six Strategies
School climate has a critical impact on school success, but sometimes we don't pay enough attention to school climate in comparison to other factors, like test scores.
This eBook focuses on new research from ACT experts that examines how school climate (student perceptions of school safety and relationships with school personnel) varies by school characteristics (e.g., school size, poverty concentration), as well as how school climate affects academic performance, absenteeism, and suspension from school.