GEAR UP: Guiding Students Along the Path to Success
Guiding Students Along the Path to Success
When Kennedy High School in Cedar Rapids, Iowa, received a GEAR UP grant, program coordinator Laurie Mead knew it was an opportunity to help the 475 students in the program prepare for college and career success. She used a suite of ACT products and services to assist her in achieving this goal.
"There are so many skills you're learning in the background when you're studying with ACT," she said.
Find out how Kennedy opened doors for students, including many who had never considered college.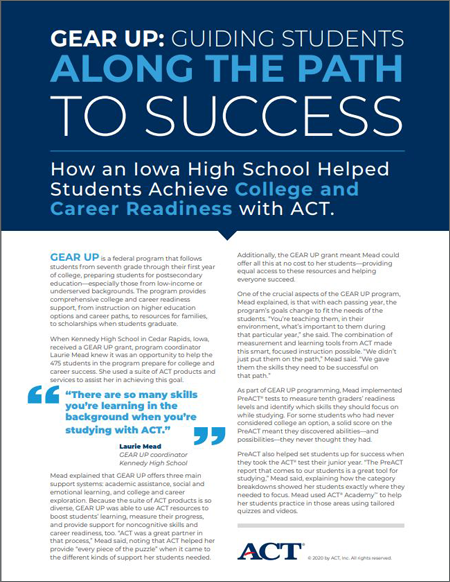 Download the Gear Up Success Story
ACT Tools Used in Kennedy's GEAR UP Program
PreACT
Tests college readiness during tenth grade.
ACT WorkKeys
Measures career readiness.

The ACT
Tests college readiness through eleventh grade.

ACT Tessera
Social and emotional learning.