February 2019
National School Counseling Week, SEL Giveaway, and More!
Upcoming Dates
This Month
Sign Up to Receive the Counselor Newsletter
"It takes across-the-board excellence to be a great school counselor," says ACT CEO Marten Roorda in a blog post on the ACT website that celebrates National School Counseling Week. Roorda's message thanks counselors across the country for their commitment to supporting students at every step of their educational journey.
Roorda says ACT's ongoing transformation, with an increased focus on individual learning and navigation to success, mirrors the holistic perspective of counselors. "A school counselor's job is to see the whole picture—and consider how the unique circumstances, skills, and passions of each student fit into an all-encompassing navigational framework."
Tomorrow (Feb. 6), ACT will recognize outstanding students, educators, and workforce professionals across the country who are positively impacting college and career readiness in their communities.
Follow ACT on social media and be the first to learn about the ACT College and Career Readiness Champions—students, educators, and workforce professionals who are demonstrating persistence through adversity, a collaborative approach to problem solving, and a passion for learning and leading others to find their own success. Individuals will be recognized from each state. Use the hashtag #ACTChampions and tag @ACT to tell us about the champions in your state.

Your school or district can apply for the inaugural ACT Social and Emotional Journey Program! ACT will choose eight schools to receive 500 free ACT Tessera® assessments, allowing them to offer feedback to ACT regarding the social and emotional learning (SEL) assessment experience at their school.
Applications must be submitted by February 8.

The My Success campaign was created to illuminate the many paths that can be taken to success while highlighting stories that encourage and inspire students to find their path. We've made it easy for you to share these useful stories with your students to help them find their own paths to a successful future.
Our campaign toolkit contains images and text for your social media channels, newsletter content, videos, and more that offer tips related to preparing for college and beyond. Explore, download, and share! You can also email MySuccess@act.org if you want your logo or student resources to appear on our website.

After years of supporting and empowering the American College Application Campaign (ACAC) from the American Council on Education (ACE), the ACT Center for Equity in Learning, which focuses on closing gaps in equity, opportunity and achievement for underserved populations and working learners, will oversee and continue to expand the campaign.

ACAC is a national initiative led by leadership teams in 50 states plus the District of Columbia that seeks to increase the number of students from low-income families and first-generation college students who pursue a postsecondary degree, and to help those students navigate the college application and admissions process.

ACAC state teams work to remove barriers that may prevent underserved students from applying to a postsecondary institution by ensuring that all high school seniors at participating schools have the support they need to complete an application to at least one two- or four-year postsecondary institution. The campaigns are run independently in each state, with public and private entities organizing the effort with guidance and technical assistance from ACAC.

This 30-minute webinar will help you connect your curriculum and content standards to the ACT College and Career Readiness Standards. Understanding these connections is key to monitoring and understanding your students' progress, and to deciding on next steps to help students succeed.
Date: Thursday, March 7
Start time: Noon CT
Duration: 30 minutes

Dr. Jon Berry, Department Coordinator of World Languages at Mount Carmel High School in Chicago, recently shared his experience after attending the ACT Certified Educator Basics training program. Here is a highlight:
"Our jobs are not defined as 'ACT Teachers,' and no classroom activity gets more criticized than 'teaching to the test,'—and rightly so. Secondary education is, and should be, much more than a summative test taken several times during a student's junior and senior year. Furthermore, it is impossible to take students who have not been exposed to a strong curriculum or who have performed poorly in whatever curriculum they have experienced, who lack a strong foundation in the language, math, and scientific reasoning skills that are assessed on the ACT test, and magically transform them into high-performing ACT students through nothing more than practice tests and a crash course on fundamentals.

"So the question is, and always has been: 'How do I improve my students' ACT scores and readiness for college when I am just one in a long line of instructors, when I am teaching subjects that are not specifically assessed on standardized tests, and when my own interests go deeper than the proper use of a comma or using the correct word in the correct place?'"
Read more about Dr. Berry's recent experience in attending an ACT Certified Educator workshop in Illinois and how he is helping his students prepare for the future.

ACT held a free webinar in January designed to answer the question, "What kind of test prep is right for each student?" Our presenters provided a detailed overview of the new and traditional test prep products (free and paid) offered by ACT. You can view the webinar, download slides, and find other resources related to ACT test prep at the link below.

Ask the Expert: When Should Students Take the ACT?
Kat Pastor of Flagstaff High School in Arizona helps her school full of self-assured learners to prepare for life after graduation by taking the ACT® test. She drives her students toward free ACT test prep to help them feel as confident taking the test as they do in the classroom.
Pastor, 2016 National High School Counselor of the Year, discusses in this video the best time for students to take the ACT, why they should consider taking the test more than once, and how student can prepare to do their best.

Seniors
How to Avoid Senioritis 
Send this email communication and post this social media image for your seniors: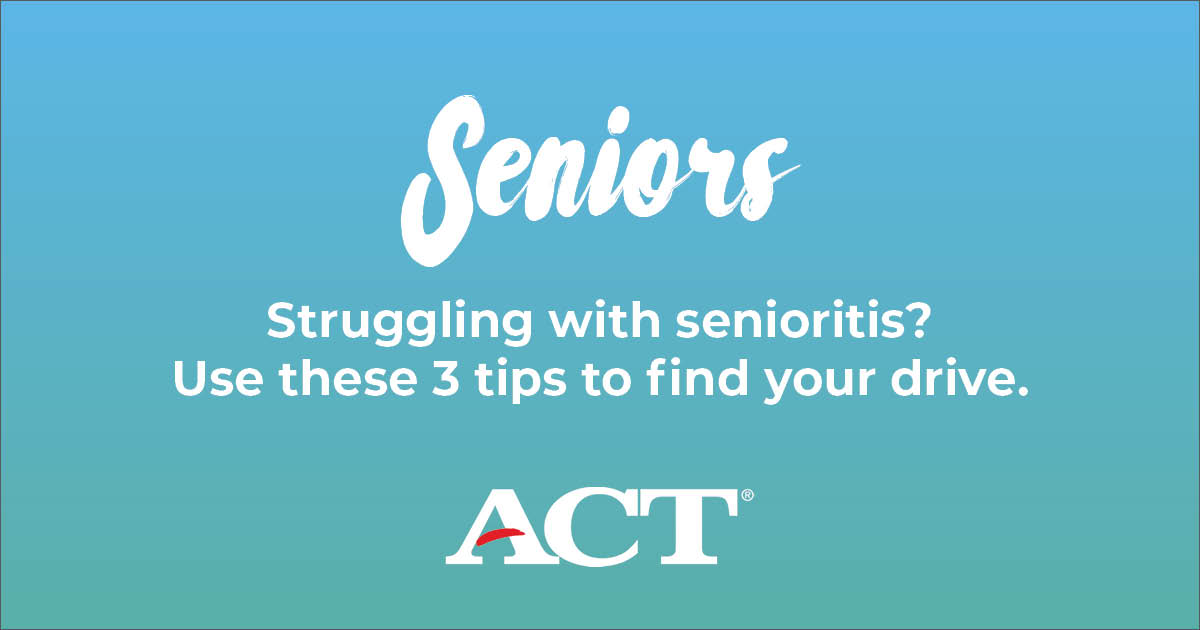 Juniors
Junior Year Checklist 
Now that you're more than halfway through your junior year, make sure you're on track for your next semester with this checklist:  Junior Year Checklist

Send this email communication and post this social media image for your juniors: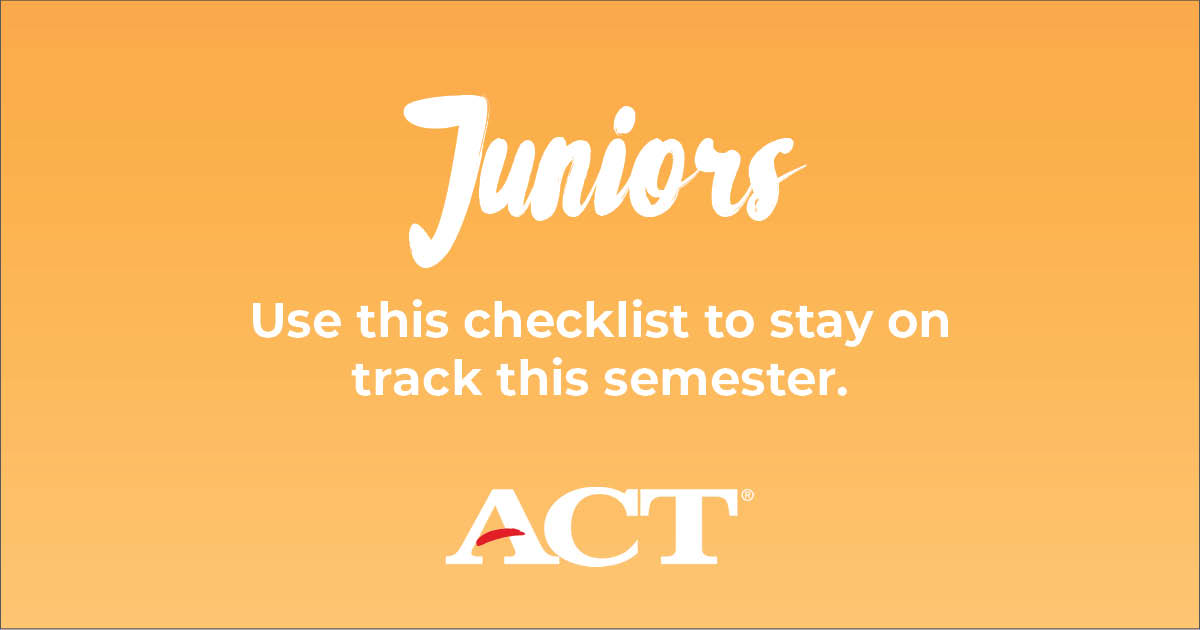 Sophomores
Practice Good Learning Habits
Practicing good habits now can make a big difference later. Learn tips that can help you get more out of class and your overall high school experience.  Practice Good Learning Habits

Send this email communication and post this social media image for your sophomores: