May 2019
Upcoming Dates
This Month
Sign Up to Receive the Counselor Newsletter
This week, we celebrate our hardworking educators during Teacher Appreciation Week! It has never been more important to support our teachers, who increasingly must do more to help students while receiving access to fewer resources. Meanwhile, the shortage of teachers in the United States continues to grow. The most recent Condition of College & Career Readiness report from ACT found that only 4% of ACT-tested students plan to enter a teaching field in their careers.
In a blog post this week, ACT CEO Marten Roorda describes the ed-tech ecosystem ACT is developing to "give our great teachers some long-sought superpowers," which includes:
Measurement integrated with instruction
Advances in artificial intelligence, machine learning, natural language processing, and related technologies
Roorda also reiterates ACT's recommendations for addressing the teacher shortage.

We've all heard the statistics: students can experience up to two months of learning loss during the summer months. Summer learning programs are plentiful but often cost money, putting the financial burden on students and families. ACT Academy™, the free instructional tool for personalized learning, can help your students combat the "summer slide."
ACT Academy experts have selected a collection of resources designed to help your students practice and polish up their expertise on the subjects that matter most. Find grade-specific resources to prevent the "summer slide" and give your students a head start into next year.
If they haven't already, your juniors (incoming seniors) should consider taking the ACT test during the June or July test date. ACT recommends that juniors take the ACT at or near the end of the school year for many reasons, including:
They have completed most coursework covered on the ACT
They can use test scores to make course decisions
Students will have time to retest during their senior year, if they want to improve their score
"I encourage my students to take the ACT at the end of their junior year in June or July," said Jennifer Thurston, counselor at Linn-Mar High School in Iowa. "Juniors take a lot of higher-level courses like English III, advanced algebra or pre-calc, and science courses like chemistry and physics, which all give them a better foundation to work from on the ACT. The stronger foundations they have in those courses make for better ACT scores, and waiting until the end of the year means they can focus on preparing for the ACT and then start working on their college applications. It makes a smooth, easy timeline for them."
Before summer starts, be sure to share ACT test dates for the 2019-2020 school year with your students.
2019-2020 Test Dates (National)

| Test Date | Registration Deadline | (Late Fee Required) |
| --- | --- | --- |
| September 14, 2019 | August 16, 2019 | August 17-30, 2019 |
| October 26, 2019 | September 20, 2019 | September 21-October 4, 2019 |
| December 14, 2019 | November 8, 2019 | November 9-22, 2019 |
| February 8, 2020 | January 10, 2020 | January 11-17, 2020 |
| April 4, 2020 | February 28, 2020 | February 29-March 13, 2020 |
| June 13, 2020 | May 8, 2020 | May 9-22, 2020 |
| July 18, 2020* | June 19, 2020 | June 20-26, 2020 |
*No test centers are scheduled in California or New York for the July test date.
The Official ACT Prep Guide 2019-2020 is a must-have resource for college-bound students, and it's the only guide from the makers of the ACT.
The new edition includes a brand-new practice test, adding 215 new test items to the book. It's accompanied by online test questions that can be organized into practice exams. In addition, this guide has everything students and educators need to know while preparing to take the ACT, including:
5 full-length practice tests
400 online test questions
Updated writing prompts and directions
Tips on how to do your best preparing for the test
Helpful advice for test day

Rural students are often overlooked when it comes to education policy reform. However, many rural students come from low-income families, generally earn lower scores on standardized tests, lack access to rigorous coursework, and attend college at lower rates than students from non-rural areas.
Efforts to improve outcomes for these students depend increasingly on access to technology, as there are many tech-based resources for enhanced learning and because students will need basic computer skills for many careers.
This new research brief from the ACT Center for Equity in Learning takes a closer look at rural students' access to technology, coursework, and extracurricular activity opportunities throughout high school.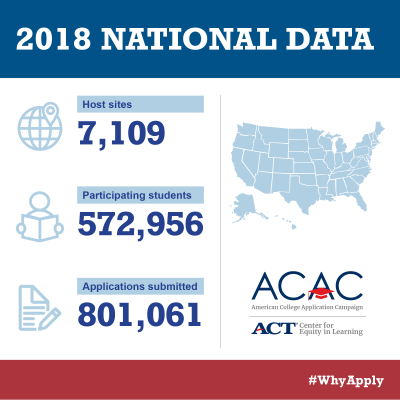 A record 7,109 high schools reported hosting college application completion events in 2018, according to the American College Application Campaign. The schools helped more than 572,000 students complete more than 801,000 college applications.
ACT and ACAC want to send a resounding "thank you!" to counselors, college advisers, teachers, principals, volunteers, and everyone who played a role in helping the class of 2019 apply to college. Because of your efforts, we have opened the college door for hundreds of thousands of seniors. We can't wait to celebrate their college decisions and watch them take this next big step on their college journey.

Join the American Indian College Fund and ACT's Center for Equity in Learning for a webinar introducing Native Pathways: A College-Going Guidebook, a new, culturally relevant, college-going guidebook developed to empower Native students who are seeking higher education. 
Webinar: Introduction to New College-Going Guidebook for Native American Students 
Monday, June 3
2 p.m. ET / 11 a.m. PT
 The webinar will:  
Discuss the need for a guidebook tailored to Native students
Provide an overview of the guidebook content 
Demonstrate how to use the guidebook in your daily work with students 
College access practitioners including counselors, college advisers, and other education equity champions working with Native students are encouraged to join this discussion. It is critical we include Native students in our conversations regarding educational equity, and this new guidebook is a great starting point to guide practitioners in their conversations.   
Seniors
College courses come in a variety of shapes and sizes. Make sure you understand the details of each type and format as you make your course selections.
Send this email communication and post this social media image for your seniors: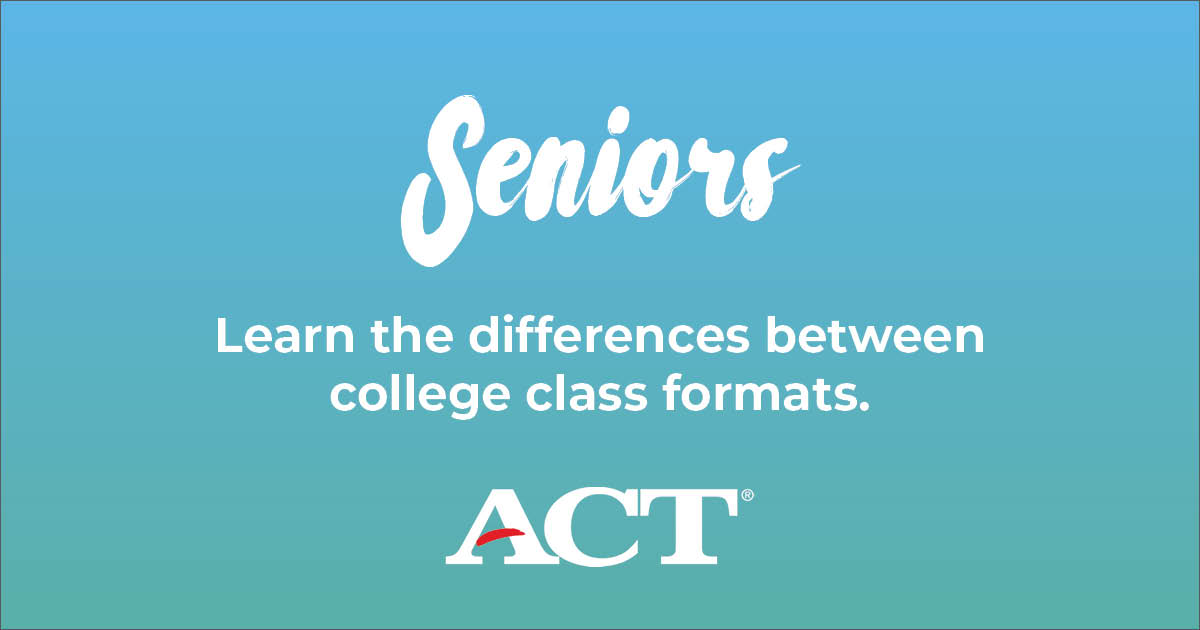 Juniors
Senior year is right around the corner. Begin mapping out ways to prepare for next year by prioritizing the information highlighted in our senior year eBook.
Send this email communication and post this social media image for your juniors:

Sophomores
Volunteering helps you get involved, meet new people, learn about new industries, and give back to your community. Dedicating your time to an organization that interests you is also a great way to build your résumé.
Send this email communication and post this social media image for your sophomores: