English Language Program
(ELP)
ACT International Solutions
For learners from a non-English speaking background who wish to learn how to use English effectively in both general and academic contexts.

English Learning Language programs are designed to:
Provide opportunity for students to identify and develop skills and strategies for more effective language learning as well as learning "how to learn"
Develop overall competence in English across the four main macro skills (speaking, listening, reading, and writing)
Develop an awareness and understanding of the culture of English-speaking peoples
The comprehensive English Language Program package includes all teaching, learning and assessment materials:
Complete Syllabus for each level
Core text: Student Course Books
Comprehensive Teacher Guide and audio CDs for coursework
ELP Writing Program
Assessment Package:

Entry test
Assessment Folders which include ongoing skills-based assessments with teacher instructions and assessment criteria
Final tests of four macro skills (with audio CDs)
ELP Levels and Articulation
From the table, you can see that the English Proficiency Program (EPP) takes learners from a starter level at EPP 1A through to pre-intermediate level in Level 2. At EPP 3, students can choose to enter the academic program, the GAC Foundation English course, or remain in the EPP.
After Level 3, students can progress to the Global Assessment Certificate™ program or start the English for Academic Purposes (EAP) program. Both these programs prepare students for study in an English-medium course at university.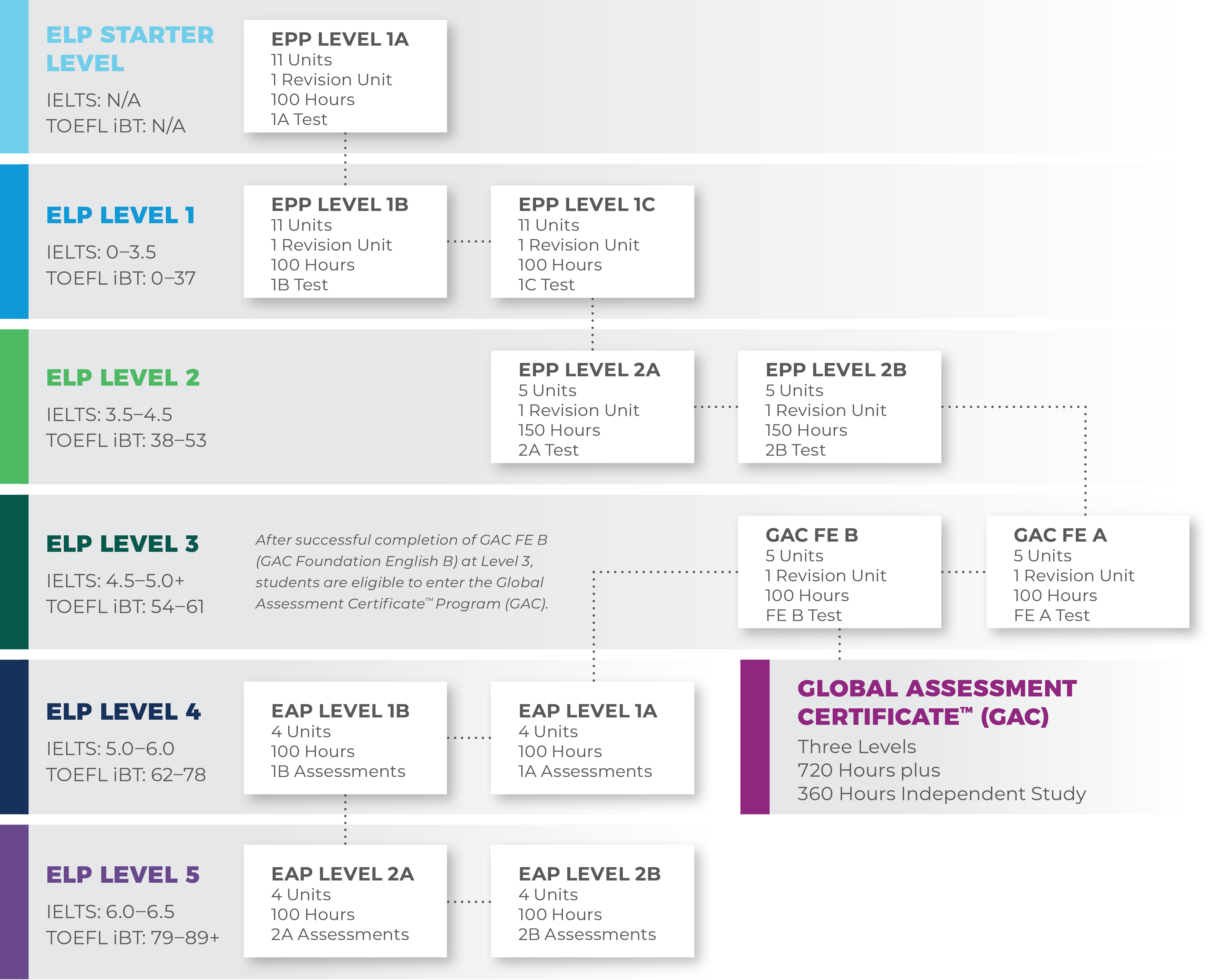 ELP Program Features
Motivate students with interesting and theme-based topics
Build communication skills for everyday use
Develop all four macro skills (speaking, listening, reading and writing)
Provide listening practice to a range of accents and help students to solve common pronunciation problems
Explain grammar simply, clearly and comprehensively
Guide teachers with after-class activities and useful reference materials
Provide guidance and opportunities for students to practice oral and written presentations, and include all assessments in the Assessment Package:

ongoing skills-based assessments with teacher instructions and assessment criteria, final tests and audio CDs.
final tests of four macro skills (with audio CDs.)
How are these programs delivered?
These programs can be delivered at secondary schools and other centers in a variety of modes. AES works with each center to adapt the programs to suit their unique circumstances.
The circumstances of each school are unique, so it may be possible for students to complete the ELP courses they need differently from shown in the table.

Sample modes of delivery
Stage
Standard full-time mode
20―25 hours per week
Concurrent with high school curriculum
EPP Level 1B
EPP Level 1C
6 weeks, or more
6 weeks, or more
Part-time during Year 7
Part-time during Year 7
EPP Level 2A
EPP Level 2B
6 weeks, or more
6 weeks, or more
Part-time during Year 8
Part-time during Year 9
EPP Level 3A
EPP Level 3B
6 weeks, or more
6 weeks, or more
Part-time during Year 10
Part-time during Year 11
How are these programs taught?
Based on an interactive and functional theory of language teaching and learning, these programs enable students to develop language proficiency and communicative skills in an authentic, meaningful and contextualized manner. The programs help teachers to create a positive, supportive and motivating learner-centerd environment.
Where are these programs taught?
These programs are delivered in more than ten countries including Bahrain, Canada, China, Indonesia, Malaysia, Mexico, South Korea, Taiwan, Thailand, and Vietnam. They are taught in centers situated on university campuses, in private language or business colleges, in corporate offices and within private international and local high schools.
The English Language Programs can be adapted to suit middle school and high school students and young adults. With flexible entry and exit points, it is possible to design a suite of programs suitable for any educational organization. Training and ongoing academic support are provided to all ELP centers.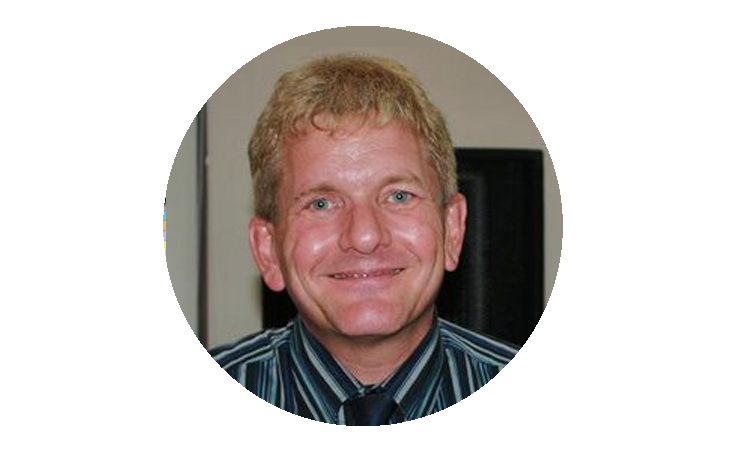 Robert J. Karvois, Jr.
Academic Coordinator
Singapore International School
Ho Chi Minh City, VIETNAM
What Our Customers Say
"The introduction of the EPP has set off a positive synergy among the staff. Teachers are working together to identify and help at risk students as well as provide the vocabulary and language skills needed to succeed in subject classes. The EPP's full package approach has allowed our teachers to better use their time and creativity. Instead of writing lesson plans from scratch, our teachers spend more of their preparation time reviewing and understanding the material in depth, as well as allowing additional time for developing creative and innovative supplements to the class material."
"Our Academic English Program is extremely challenging for the students. By teaching the students that learning new language can be fun, the EPP program is providing our students with a new–found confidence in the use of English. Students, particularly those identified as at risk, are more willing to step out of their safety zone and try to apply their new language skills throughout their academic program."