GAC Newsletter
The Quarterly Newsletter of ACT's Global Assessment Certificate Program
May 2019
GAC making a difference, ACE CREDIT recommendation, and more!
Sign Up to Receive the
GAC Newsletter
The "Learning, Measurement, and Navigation" (LMN) model has only recently become central to the way ACT describes itself. But for the ACT Global Assessment CertificateTM program, the model has been central to its value proposition since the GAC was introduced 17 years ago.
"GAC is a university preparation program that aims to equip ESL/EFL students with the skills, competencies, and confidence to successfully complete undergraduate study at English-medium universities," said Anne Zheng, deputy general manager at ACT.
Consistent with the LMN framework, GAC helps students:
Learn content, particularly English language skills, higher-order thinking skills, and the culturally relevant social and emotional skills necessary to succeed in western colleges and universities
Measure their progress toward college and career readiness, including by taking the ACT® test, and
Navigate to English-language universities and prepare for careers in which the global perspective, people skills, creativity, problem solving, and culture awareness are critical to success.
GAC student speaks at a graduation ceremony in Myanmar.

The GAC program complements students' national curricula with content they wouldn't normally receive in high school, such as academic English (usually with native English speakers as teachers), study skills, research skills, and a more interactive instructional style than is common in many countries.
"Chinese schools are very much exam- or test-oriented, and students learn lots of content and knowledge in order to achieve good scores on exams," Zheng said. "There is little emphasis on soft skills such as independent study skills, critical thinking skills, analytical skills, and report writing skills."
"Therefore, when Chinese students go to study in western universities, the gap can be obvious. The role of the GAC is to bridge the gap between high school students' learning styles and what they learn in school and the challenges they will face in postsecondary education in western countries."
When GAC started in 2002, it was generally a 36-week, full-time program that students took after their high school education was complete and before their college education began. Today, most students complete the same amount of instruction, but the learning is spread across three years of high school. "Now we embed the GAC into the high school curriculum to enable students to take the GAC part time," said Zheng. "Students don't work on one curriculum. Instead, they study two curricula—the national and the GAC curriculum—concurrently."
Daniel Grover, vice principal at International Education USA in Shanghai, China, says the concurrent curricula, with their complementary courses, is critical to the long-term success of GAC students.
"After all, being able to recite the knowledge and test strategies is very different from conducting independent research and sharing it with professors," said Grover. "By the final level of GAC, our students are producing reports, essays, and presentations at university level."
GAC students at International Education USA, Shanghai, China.
Entry into the GAC program assumes a certain level of English proficiency. If the student isn't there yet, AES offers English Language Programs (ELP) and Foundation English (FE) to help them develop their speaking, listening, reading, and writing skills. As students advance through the ELP or FE, they take assessments to ensure they are ready to move forward and ultimately enter the GAC program.
The GAC program itself has three levels, and six modules within each level—18 modules in all. That is a major investment in highly competitive countries where students may start attending classes as early as 7 a.m. and study in after-school programs until 9 p.m., before doing even more work at home.
A differentiating feature of the GAC program is that beyond "drill-and-kill" and rote memorization, there is more emphasis on experiential activities that seamlessly integrate assessment into the classroom (consistent with ACT's value proposition of authority, personalization, and integration).
"GAC is not an easy program," said Zheng. "If students want to learn and master those skills, they need to spend time developing them. We have a wide range of assessment events, including written exam, seminar, oral presentation, academic essay, case study, and research report for different disciplines to assess students on the achievement of the competencies embedded in each module."

GAC students in Indonesia recognized for excellence in a speech contest.
Developing social and emotional skills is also important to GAC students, who are preparing to study or work in countries and cultures potentially far removed from the communities in which they are being raised.
"In China, almost all the GAC students end up studying in the United States, Canada, the United Kingdom, or Australia," said Zheng. "In Mexico, many GAC students may not wish to study overseas. They choose the program because they like the idea of standardized and supervised education."
"The GAC program makes me confident in overseas studies and life," said Yu Qingxuan, now a student at the University of Alberta. "I know that I can adapt well to English language teaching, can achieve satisfactory results and make local friends."
"Not only did I achieve outstanding results of standard tests and enrolled in my dream college," said Li Jiazhen, now at the University of Illinois Urbana-Champaign, "but I also developed the western ways of thinking and learning, which are qualities that can truly make a difference for international students."
"There are more than 1,000 International schools and programs within the Mainland China," said Eng Han Tan, ACT regional director. "GAC is a well-respected program with close to 100 schools using our curriculum. I am confident ACT's ongoing efforts to upgrade and enhance the curriculum will allow the program to grow more rapidly. Our aim is to be the international program of choice in China."
According to Zheng, whether GAC students end up in Alberta, Illinois, Edinburgh, or Australia, they will be well-served by their experience.
"The GAC helps students develop 21st-century competencies, which are crucial for students if they want to be successful in this fast-changing world," said Zheng. "We always tell our students that knowledge can become out-of-date and jobs can be replaced. The acquisition of 21st-century core competencies will give students the competitive edge and confidence to embrace change, challenges, and unpredictability in the future world."

GAC teacher and students at Anhui University Center, Hefei, China.
GAC Program Receives ACE CREDIT Recommendation
GAC's 2019 reapplication to the American Council on Education (ACE) CREDIT program, for recognition of GAC courses for transfer credit at US postsecondary institutions, was hugely successful! In all, 17 GAC courses (worth a total of 51 credit hours) were recommended by ACE for lower-level credit transfer—an increase of two (2) ACE-recognized GAC courses over the previous review in 2015.
How does this benefit GAC students? Depending on the admitting university and academic program, a GAC student could have a year's worth (or more) of transfer credit accepted based on the GAC. That means an opportunity for cost savings and a faster time to degree completion!
Learn about the ACE CREDIT program.
GAC Student from Thailand Earns Top Honors
ACT is pleased to recognize Christopher Gardner for his outstanding performance in the GAC program. As a student at Sarasas Ektra School in Bangkok, Thailand, Gardner completed all three levels of the GAC with a perfect 4.0 GPA—a feat that earned him a US$500 scholarship from ACT. Gardner will pursue a degree in mechanical engineering at Thammasat University. Congratulations and well done!
See the video interview with Christopher Gardner in which he describes his experience with the GAC.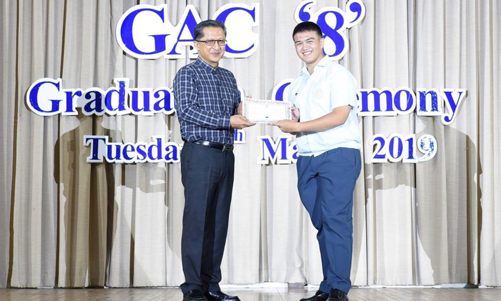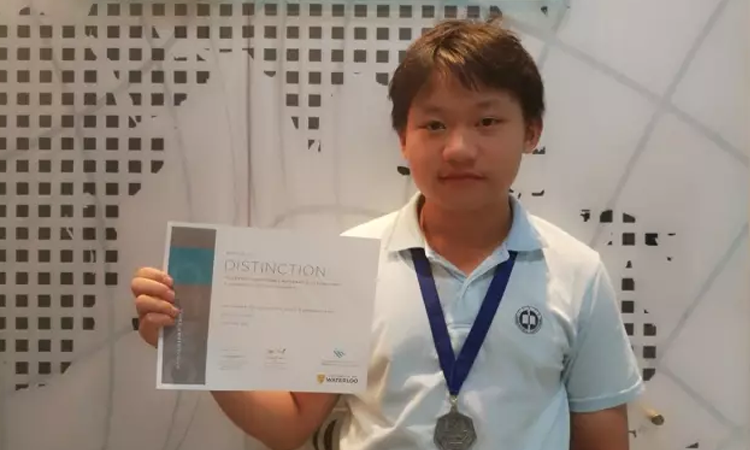 "I took traditional education in my country for six years before GAC, which offered me a transition to a new style of classes. GAC encourages me in class to talk in group, communicate with teachers, and present and conduct Q&As. I was a very withdrawn student before, but I've learned how to present my reports boldly in front of students in GAC. Additionally, GAC emphasizes time management skills, which will be essential in university.
"Aside from that, GAC taught me very crucial abilities. There are classes involving how to write essays properly while the tasks or assessments in GAC allow me to practice essay writing. I became capable of writing good introductions, body paragraphs, and conclusions with the skills learned in GAC, such as writing summaries, arguments, and explanations. Furthermore, GAC teaches substantial skills on computer use, enabling me to apply the skills to enhance my academic study, including making a cover for my essays, processing data, or making presentations. Those abilities will be really precious in my university life."
Yaocheng Li, The First High School of Changsha, Hunan Province, China
GAC Development Conference Semarang, Indonesia
January 2019
GAC Development Conference Surabaya, Indonesia
January 2019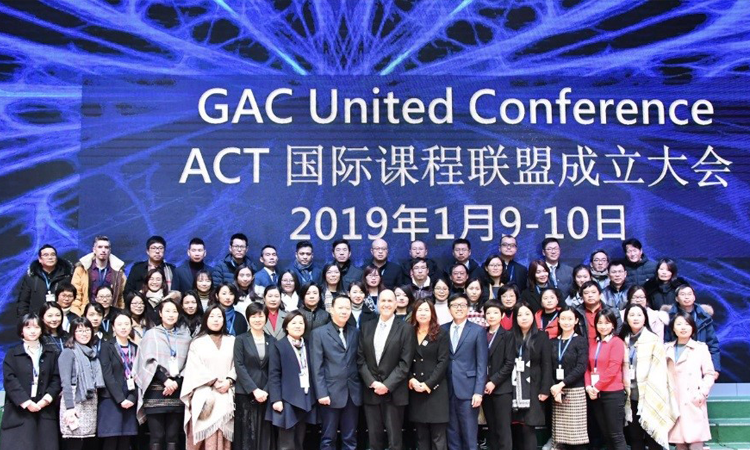 GAC United Conference Nanjing, China
January 2019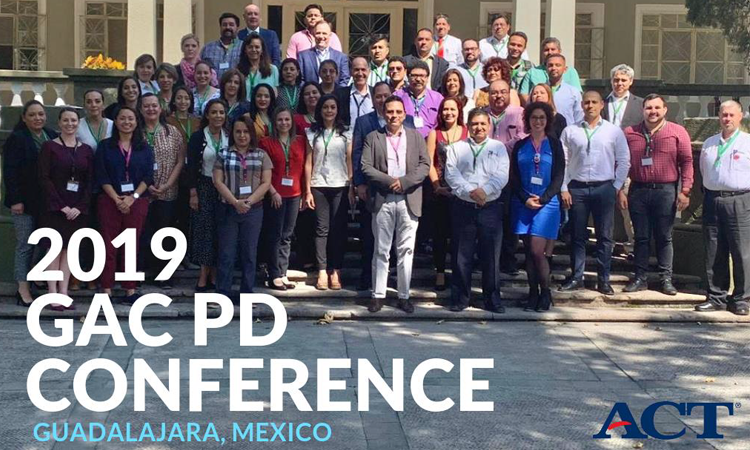 GAC Development Conference
Guadalajara, Mexico
March 2019