ACT Online Prep
An online resource to help students prepare to take the ACT test, featuring real questions from previous tests.
Help Your Students Prepare for the ACT Test
As your students get ready to take the ACT® test, you want them to do their best. You can help your students prepare with ACT® Online Prep—an engaging, interactive test prep program developed by the makers of the ACT using the same research and expertise that has made the ACT the most widely used college entrance exam in the nation.

Flexible, personalized learning paths customized to each student's needs and test timeframe so they can review material at their own pace.
Two full-length tests and thousands more practice questions help students become familiar with the ACT format and build their confidence so there are no surprises on test day.

Engaging games they can play with other students encourage them to test their knowledge.

Students can access the program online or through a free mobile app at school, home, or on the go, anytime.
Track progress at individual and aggregate levels, including time spent, performance on practice questions and tests, and areas in which an entire class may need help.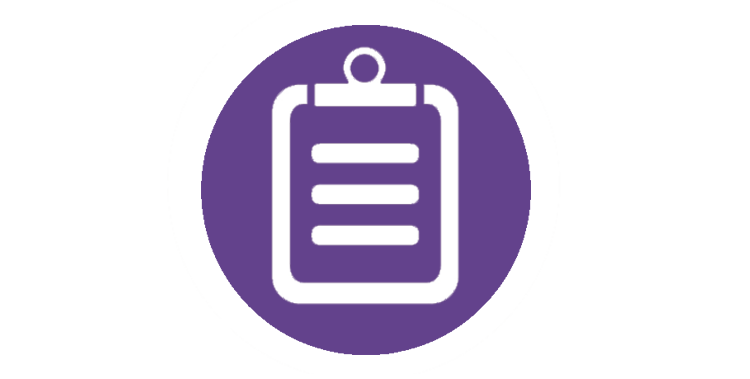 Teachers can assign work in ACT Online Prep for students to complete as part of test prep within a classroom or as learning enhancement.
ACT Online Prep
Help Your Students Do Their Best
Find out more about how you can help your students prepare with ACT Online Prep—the most widely used college entrance exam in the nation.
Order ACT Online Prep
Purchase ACT Online Prep annual licenses for students in your school or district. Discounts are available for GEAR UP organizations and schools with more than 50% free and reduced lunch students.After your order is processed, each school-level administrator will receive an email from ACT that includes a quick-start guide and instructions for activating their account. The administrator can then upload students, assign instructors, and create classrooms.
Administration User Guide
The ACT Online Prep Administration User Guide provides all the information you need to set up classrooms, instructors, and students, as well as to monitor performance.
Teacher Implementation Guide
The ACT Online Prep Teacher Implementation Guide provides guidance on incorporating ACT Online Prep in a classroom environment.

Other Resources
Sample Tests
ACT offers states, districts, and schools sample tests for student practice, so students can feel more comfortable with the content and format of the test. Sample test packets are available in packages of 25 and can be ordered as the ACT multiple choice test only, writing prompt only, or combined multiple choice and writing prompt.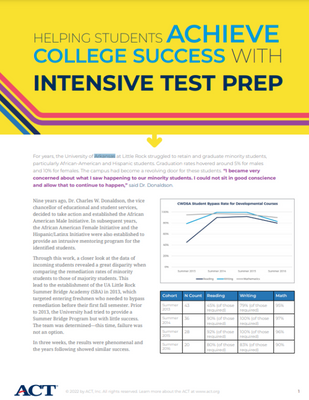 Helping Students Achieve College Success with Intensive Test Prep
For years, the University of Arkansas at Little Rock struggled to retain and graduate minority students, particularly African-American and Hispanic students. Graduation rates hovered around 5% for males and 10% for females. The campus had become a revolving door for these students. "I became very concerned about what I saw happening to our minority students. I could not sit in good conscience and allow that to continue to happen," said Dr. Donaldson.
Related Research
The Importance of Test Prep - What the Research Says
A thoughtful article from ACT research leader, Wayne Camara, on the benefits of test prep.