National Curriculum Survey 2016
The ACT National Curriculum Survey is a one-of-a-kind nationwide survey of educational practices and college and career readiness expectations conducted by ACT every few years.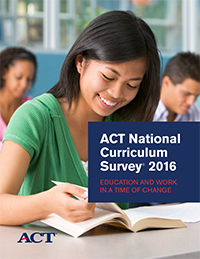 National Curriculum Survey 2016
Education and Work in a Time of Change
Every few years, ACT conducts its ACT National Curriculum Survey® to ask educators about what they teach (or don't teach) in their courses and how important they feel various topics in their discipline are for students to be successful in these and future courses. The survey also asks educators for their perspectives in education topics of current interest, such as academic standards, the college readiness of their sutdents, the use of technology in the classroom, barriers to student success, and how best to improve outcomes for underserved students.