How to Master a Campus Tour
What to Do Before, During, and After a Visit
Make campus tours a part of your plan.
As you begin to narrow down your college choices, make it a priority to go on campus visits. Your college experience is about more than what happens in the classroom, which is why you should get a really good feel for the place.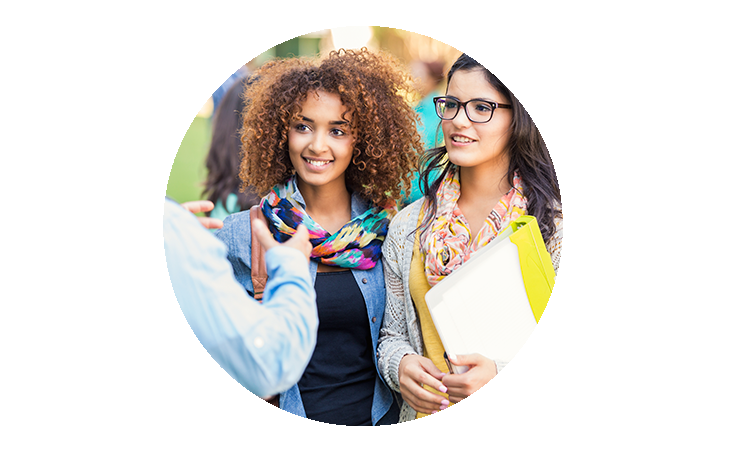 Before You Go on a Campus Tour
Choose the best time to visit. Scheduling a campus tour can be tricky, especially if you have to plan around school, extracurricular activities, and work schedules. (Tip: it's best to visit a campus when school is in session so you can get a true understanding of the daily energy and atmosphere.) Consider going on a tour:
During your spring break
While visiting friends or family that live near a campus you're considering
Mid-August, before your school starts but when colleges are beginning their fall session
Decide what kind of tour you want to go on. Do you want to go on a special visit arranged for a large group of students from your high school? (These are often planned by the school or a community group.) Or, do you prefer scheduling a one-on-one tour? Maybe you want to tour the college in a small group? To learn more about the tour options offered and reserve your spot, visit the college's website.
Do your research. Review the school's website, follow the college on social media, and talk to friends and family members who attend the school. Keep a running list of notes, questions, and concerns. Before you go, turn your notes into a ranked list of questions you want answered. Download and print the campus visit worksheet to use as a guide!
Take it all in. Put your phone away and look up. You're on campus for a limited amount of time, so it's important to be present. Note small details, like the distance between academic buildings and the dorms. Watch where current students gather outside of class. Look at it as if it were your new home. What would you point out to a guest? The art or the architecture? The nature trails or the building amenities?
Listen to your gut. What is your first impression of the school? What is your initial feeling? Are you overwhelmed? Impressed? Anxious? Giddy?
Get to know your group. Talk to other students considering the college. Everybody has their own perspective, so learning what motivated somebody visit the campus can help expand your own viewpoint.
Interact with the tour guide. Don't be afraid to pick your guide's brain about why they are attending this school and how they made that decision. Something they say might resonate with you.. Your tour guide could also be a great resource for answering general campus questions. Ask questions like: How do I get around campus? Can I bring a car on campus? Do I need one? What kind of academic support is on campus? Do you feel safe on campus, and what measures are in place to ensure student safety? What are the housing options my first year? What kind of health services are available?
Explore on your own. After your scheduled tour, take some time to visit different department buildings, student common areas, dorms, cafeterias, or ride a bus around campus and the community.
Reflect on your experience. Can you see yourself walking around this campus every day? Does it fit your preference of size and pace? Do you enjoy the aesthetic? Is the campus too quiet or noisy? Sometimes, it can help to write about your time on campus. It could be a brain dump of all your thoughts, or just a simple pro/con list. Overall, if you're feeling positive and comfortable on campus, that's a sign the school is a good fit.