Success Stories
See how educators are using ACT Aspire to improve and track students' readiness for college and career.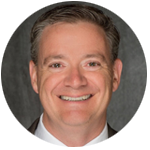 Declan FitzPatrick
Executive Director of Curriculum and Instruction
Fox C–6 School District
St. Louis, Missouri
Connecting Student Growth: Elementary to High School
The Fox C–6 School District, near St. Louis, Missouri, has put together a comprehensive assessment plan using ACT solutions that has limited their impact on instructional time and aligned data from grade 3 through high school.
"If we really care about kids, what we want are better results on the tests that are going to get them into college and college scholarships. When we say we value the ACT results and we're going to take assessments once a year to find out where your kids are moving towards that college and career readiness benchmark, parents say that's a value they can get behind."
—Declan FitzPatrick, Executive Director of Curriculum and Instruction, Fox C–6 School District, St. Louis, Missouri
A Higher Standard for Extraordinary Students
This Oklahoma school gave a boost to its curriculum while surpassing national ACT test scores.
Getting Started with ACT Aspire
We encourage you to learn more about the value of delivering ACT Aspire assessments by completing our information request form. Upon completing the request, an ACT representative will reach out to you to discuss the program.
With both summative and periodic assessments available, ACT Aspire can be administered in a number of ways to meet the needs of your students. Special "bundled" pricing is available when the summative and periodic assessments are purchased together.
ACT Aspire Periodic
$10.00 per student
Summative Online Testing
$25.00 per student
Summative Paper Testing
$31.00 per student
Summative Options
Printed Individual Student Reports: $1.50
Printed Individual Score Labels: $0.50
Summative
Order 400-1,000 students: $1.00 off/Student
Order over 1,000 students: $2.00 off/Student
When Summative and Periodic ordered during same school year: $2.00 off/Student (applied to Summative)
Two test windows are available for ACT Aspire Summative testing each year: One window in the fall and one window in the spring. The ACT Aspire Summative assessment is a computer-delivered test. However, it can be delivered via paper-and-pencil testing for an additional fee. The periodic assessments are CBT only.
| Test Session | Agreement Deadline | Testing Window |
| --- | --- | --- |
| Aspire Periodic 2020-2021 | NA | Sept 1, 2020 - June 30, 2021 |
| ACT Aspire Summative Fall 2020 | October 9, 2020 | Sept 1, 2020 - Nov 20, 2020 |
| ACT Aspire Summative Spring 2021 | April 9, 2021 | March 29, 2021 - May 21, 2021 |
Explore More Aspire Resources