PreACT 8/9
Provides 8th and 9th Graders with Short Practice for the ACT Test
Use Federal Funding to Improve Student Outcomes
The First Step Toward Preparing Students for the ACT Test
PreACT 8/9® is for schools and districts who want to support their 8th and 9th graders with an early practice experience for the ACT test. It also provides an early indicator of college and career readiness that helps educators, students, and parents identify areas of academic strength and opportunity.
One ACT Solution Builds on the Next
PreACT 8/9 Benefits for Schools and Districts
Predicts Performance on the ACT. Provides predicted score ranges for both the PreACT and the ACT subject and composite scores.

Aligned to ACT Readiness Benchmarks. Based on validated ACT Readiness Standards and Benchmarks
Aligned to the ACT Score Scale
Robust Reporting Package. View multiple reports including Item Response Summary Report by Grade, Student Report, Educator Reports, and more. Additionally PreACT 8/9, PreACT and the ACT each provide a STEM score.
Career and Navigation. Provides an Indicator of progress toward the National Career Readiness Certificate that estimates students' progress toward the ACT® National Career Readiness Certificate® (NCRC®)1. Also provides career suggestions based on student goals and interests based on answers to the Interest Inventory.
Flexible Administration. Schools and districts choose when to test—not a contract or calendar—within the October–June testing window.
Quick Implementation. Materials are received quickly to enable an expedited administration.
PreACT 8/9 provides indicators helping students, parents, and educators determine their readiness for college and career success.
Create a Pathway to Success
With predicted performance on PreACT and the ACT, your students can have an earlier indication of success and a starting point to the path of college.
Course Placement 
Set students up for success by placing them in the correct level during critical transition points from junior high to high school.

Create a College Going Culture
Start counseling students earlier on their college and career options by utilizing the Student Profile and Interest Inventory.

Consider establishing a College and Career Readiness Day—a specific day dedicated to the readiness of your students. Your school can shut down the bells and deliver all assessments on the same day.
GEAR UP provides six- and seven-year grants to states and partnerships to provide services at high-poverty middle and high schools. Write PreACT 8/9 into your grant application and leverage this available funding.
Benefits of PreACT:
What Does the Evidence Say?
The evidence reveals 5 benefits of schools providing the PreACT 8/9 to students.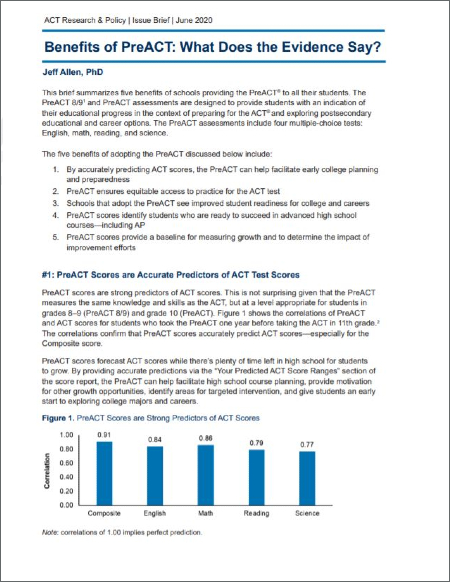 | 2021-2022 Pricing | Agreement Deadline | Testing Window |
| --- | --- | --- |
| $16.00 Per Student | Enroll now to lock in plans for school year 2021-22 | Flexible administration: Schools choose when to test September 1, 2021 - June 1, 2022 |
Explore More ACT Resources